The end of August is fast approaching, and with it, the second month of the Victorian solar battery rebate. While the solar rebate was quickly snatched up in record timing, the battery rebate remains open for applications and is a generous offer for eligible households.
What is the Victorian solar battery rebate?
A government incentive introduced on the 1st of July to encourage solar batteries in households in selected Victorian suburbs. A total of 1,000 rebates of up to $4,838 per battery installation were introduced, potentially cutting the price of solar batteries by half! A generous incentive in addition to energy cost savings of up to $640 a year.
Currently, 136 rebates out of 200 allocated until the end of October are still available.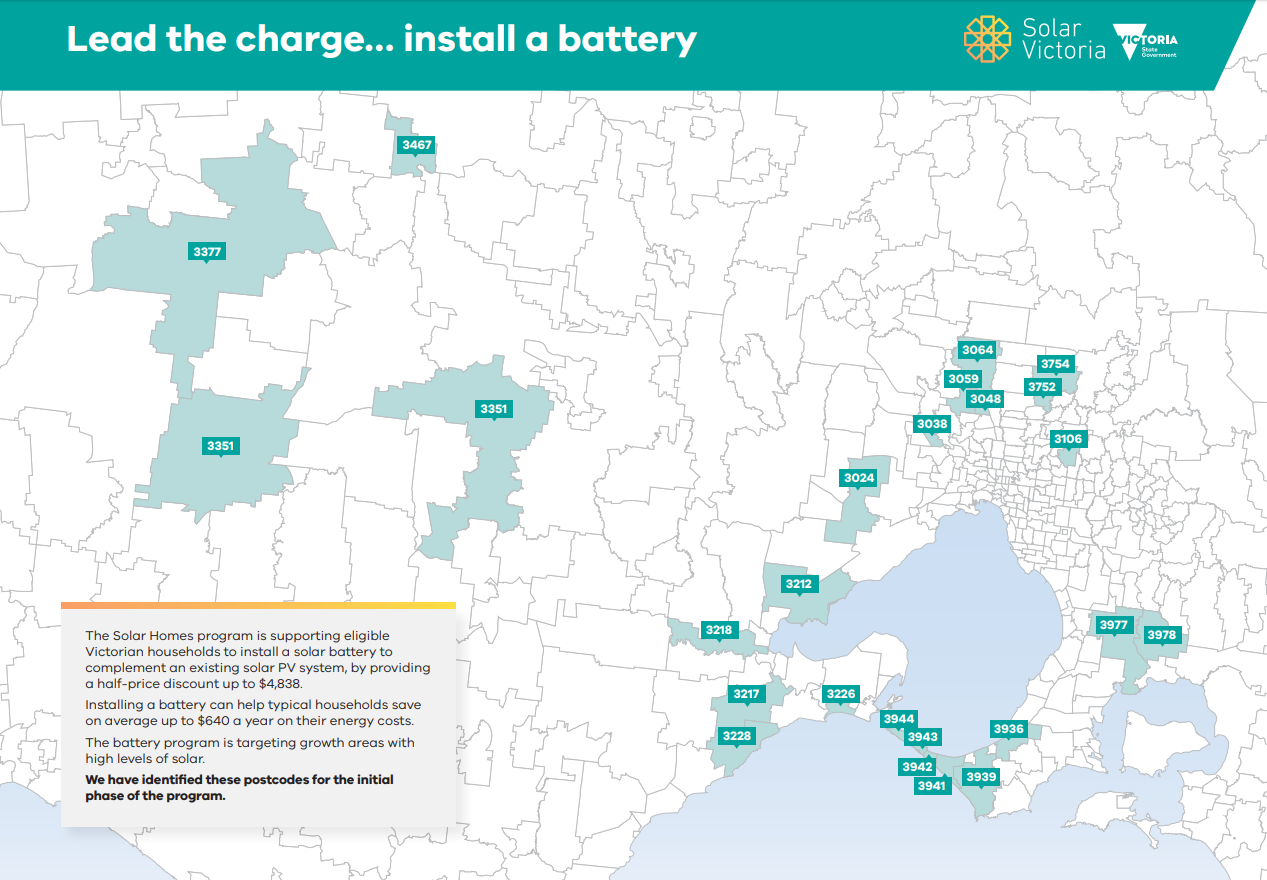 Unfortunately, eligibility for this program remains exclusively available for households in "high solar growth areas" (indicated in the map above) with a pre-existing solar system that was not covered by the VEEC (Victorian Energy Efficiency Certificate), on top of other eligibility criteria outlined by Solar Victoria.
"Victorian households are eligible to receive a battery rebate under the Program if the property:
owners have a combined household taxable income of less than $180,000 per annum (based on any of last two years' Australian Tax Office Notice of Assessment)
is an existing property, valued at under $3 million;
sits within a targeted postcode, as identified by Solar Victoria;
already has solar PV panels installed with a capacity equal to or greater than 5kW;
agrees to install an energy storage solution listed on Solar Victoria's Approved Battery List;
does not have an existing energy storage system;
the property address has had no previous participation in the Solar Homes Program;
is willing to receive information from their Distribution Network Service Provider about participating in battery trials to maximise the value households get from their battery; and
agrees to receive a free safety inspection and/or audit under the Solar Victoria Audit Program if selected."
How do I apply?
If you are interested in participating in the program, you should do research on several solar retailers and request quotes from them to compare different prices, brands and capabilities. It is important to bear in mind that only authorised solar retailers are permitted to provide quotes and installations in Victoria.
With a quote provided by the solar retailer, you may apply for eligibility on Solar Victoria's portal and receive an eligibility number for the installation.
Want to know more?
Sometimes the best way to get the information you need is to talk to someone. Contact us today or request a call back and we can answer any questions you have on the battery rebate and installation process for your home!