A question the Eko Energy team is often asked: is my roof suitable for solar?
There are a number of factors that impact your roof's suitability for solar but here are the most important:
Roof area and shading
Roof material and pitch
Direction
Your current switchboard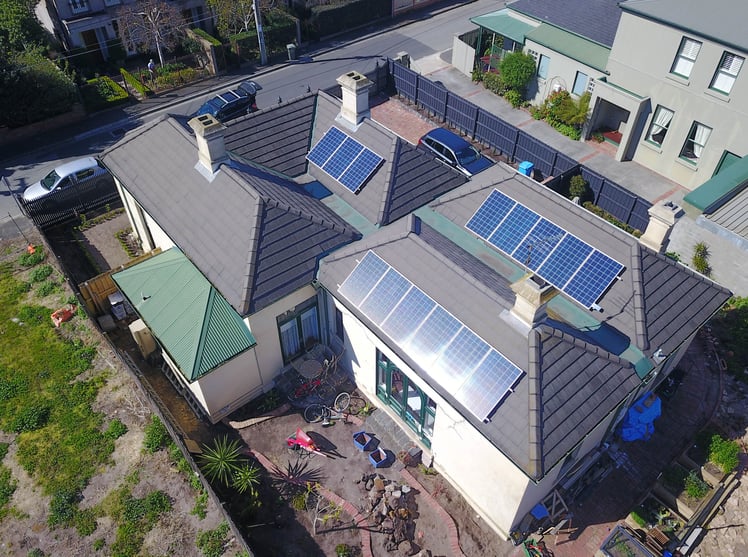 Roof Area & Shading
Solar panels vary slightly in size by brand and output, but are generally around 1.6m x 1m. Even the smallest solar systems require 6 panels at a minimum, so your available roof space needs to be at least 10sqm. A medium size residential solar system (5kW) would require 19 panels.
Some roof space may be impacted by shading from nearby trees, reducing your available space.
The first step in the Eko Energy solar process is to conduct a free, no obligation assessment of your roof to indentify available space and any problematic shading.
Roof Material & Pitch
The installation requirements change slightly if your roof is tin or tiled. The optimum roof pitch depends on the latitude of your location, ranging from 12° in Darwin to 37° in Melbourne. Standard roof pitches in Australia are 15° or 22.5°, so if your roof requires additional tilt, we will discuss options for tilt frames, which can significantly improve the output of your system.
Unfortunately, slate roofs are not suitable for solar.
Direction
The ideal roof will face north, but it's still possible to install solar on north-east, north-west, east or west facing roofs. A north-east or north-west facing roof will reduce your electrical output by approximately 8%. An east or west facing roof will reduce your electrical output by approximately 16%.
We would not recommend installing solar on a south facing roof.
Your current switchbox
Your meter box, fuse box, electrical wiring and switchboard must be compliant and solar ready. A bi-directional meter is required for solar; to monitor and record the import and export of electricity. If you already have a smart meter, it will most likely need to be reprogrammed for export monitoring. Often, we can upgrade your equipment free of charge and will make sure your equipment is ready before installation.
On average, 10% of properties are deemed unsuitable for residential solar, primarily due to shading by large trees or the direction and roof material.
Eko Energy provide free, no obligation site assessments of your property and produce detailed satellite image-based panel layouts including a simulation of the sun throughout the various seasons. We like to be thorough and recommend a site visit with one of our consultants to discuss all of the above and to make sure that solar is the right thing for you.
Click here for more information on residential solar energy
or call 131 546 to speak to a member of the team.